International Internet Magazine. Baltic States news & analytics
Saturday, 30.09.2023, 15:54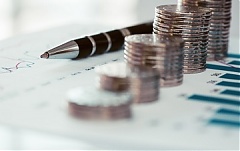 29.12.2020
Lithuanian President Gitanas Nauseda signed the 2021 budget bill with a deficit target of 7% of GDP into law on December 29th, cites LETA/BNS.
21.12.2020
The third Estonian-Latvian electricity connection has been completed and will commence operation on Jan. 1; the total cost of the new connection for the two countries is approximately 170 million euros, informs LETA/BNS.
18.12.2020
According to Statistics Estonia, 2.3% of the population of Estonia lived in absolute poverty and 20.7% lived at risk of poverty in 2019. Compared to 2018, the share of people at risk of poverty fell by one percentage point. The share of people living in absolute poverty rose by 0.1 percentage point.
18.12.2020
The Estonian government on Thursday approved an order to continue economic crisis support measures also in 2021, among other things, a support measure for areas under the area of government of the Ministry of Culture was agreed upon involving support to culture, sport and adults' hobby activities.
18.12.2020
The Estonian government at its sitting on December 17th approved an overview prepared by the Ministry of Finance on state aid and "de minimis" aid granted in Estonia last year, the total amount of which was 434.7 million euros, informs LETA/BNS.
17.12.2020
The European Commission has approved EUR 70.8 million program for Latvia to support companies affected by the Covid-19 outbreak, LETA learned from the European Commission's representative in Latvia, Kristine Liepina.
17.12.2020
According to the Dec. 8 decision of the listing and surveillance committee of Nasdaq Tallinn, up to 1,000,000 shares of Estonian developer of sauna heaters and indoor air conditioners Saunum Group with a nominal value of 0.1 euros will be admitted to trading on the First North alternative market, writes LETA/BNS.
17.12.2020
The Estonian government on Thursday is to allocate 3.5 million euros from the reserve to the Ministry of Justice for the payment of the so-called blank media levy, which is compensation paid when creators' audiovisual work or an audio recording of their work is copied without their consent for personal use, informs LETA/BNS.
17.12.2020
The Viljandi, South Estonia based manufacturer of parcel robots Cleveron, which asked for a loan of 30 million euros from Kredex for the establishment of a new parcel machine network, received a negative response to its request on Monday, the regional Sakala writes, cites LETA/BNS.
16.12.2020
The Lithuanian government has earmarked 65 million euros for vaccines in 2021 budget and another 80 million euros for other measures to combat the pandemic, Health Minister Arunas Dulkys said on Wednesday, cites LETA/BNS.
16.12.2020
The latest economic forecast from Eesti Pank expects the Estonian economy to recover from the crisis in 2021 and to return to where it was before the crisis in the second half of next year.