International Internet Magazine. Baltic States news & analytics
Saturday, 30.09.2023, 15:57
First people in Latvia receive Covid-19 vaccines
BC, Riga, 28.12.2020.

Print version
On Monday morning, the first people received the Covid-19 vaccines at Pauls Stradins Clinical University Hospital in Latvia, the hospital's representative Janita Veinberga reported LETA.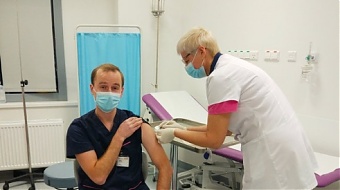 The first vaccine was administered at 8:02 a.m.
Veinberga said that in three days the hospital plans to vaccinate 1,055 people.
One of the hospital's medics, Janis Vetra, who received the vaccine on Monday, said in a Twitter post that the pandemic has taken much from people in 2020, and it is quite unbelievable that a counterstrike can be started already this year.
Veinberga said that the first to receive the vaccine are those medics who work wit Covid-19 patients or those who are most likely to meet with confirmed or potential Covid-19 patients. Then, staff of other hospital's structural units will receive the jab.
She said that in a survey, 70 percent of hospital employees said they would like to receive the vaccine. More than 2,000 employees were surveyed.
Health Minister Ilze Vinkele (For Development), asked about the first person to be vaccinated against Covid-19, said that the vaccination is not secret - it will start on Monday in ten hospitals. "The good news is that the Health Ministry does not dictate the choice of the first person to be vaccinated," said Vinkele.
As reported, today, Covid-19 vaccination has been started in ten vaccination rooms in Latvian hospitals.
The first vaccines were delivered to Latvia on Saturday. The first delivery contains 9,750 doses of the Pfizer-BioNtech vaccine. The vaccines are stored frozen at minus 75 degrees centigrade.